Dialogue Designer
DialogueDesigner now on STEAM!
---
DialogueDesigner is now on STEAM!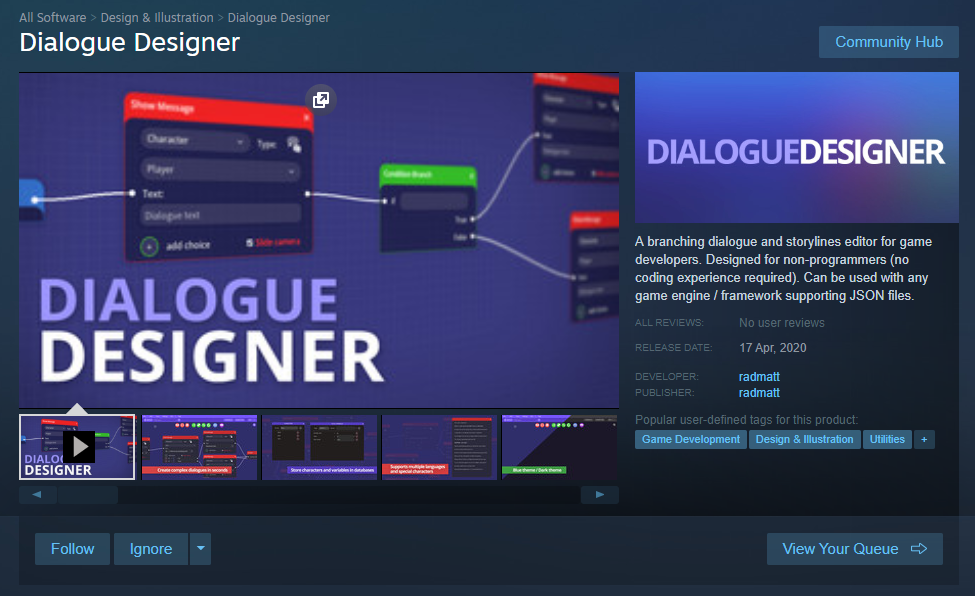 Check it out:
https://store.steampowered.com/app/1273620/Dialogue_Designer/
If you want to support my work, add the software to your steam wishlist and leave a review once it comes out (April 17th!), this will help me out a lot!
Thank you for all the support so far!
About current reviews:
I added 3 reviews, two of them from itch.io users: mroberti and Evolution Pixels. I had no way of contacting you to ask if it's ok for me to put your reviews up there, I hope you don't mind! If you want it removed or get anything changed please leave a comment here or contact me by email and I'll sort it out.
Comments
Log in with itch.io to leave a comment.
Hey, already purchasing DialogueDesigner on the itch, can get a Steam Key?
Love the tool, still busy with a project but I'm going to use it these days for my project :), if we bought the tool here are we going to receive a steam key?